Lake Rose
Metropolis, Research Center
5252, 1419 Naboo
Mayor Rose
About Lake Rose
Lake Rose is in the original location that Lake Dread was on "live" Bloodfin which was the home of AXIS.  Events are held in the main square.
Features
Lake Rose holds 2 very special features. Next to the Cantina is the In Memory of.. those we have lost house. Inside the house holds torches of the names, and guilds of players to which are no longer with us. Lake Rose also holds the dungeon Lake Rose Banshee.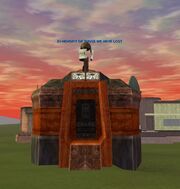 Trainers
Just message me in game to change or add any trainers you need*
Mission Terminals
Artistan
Entertainer
Explorer
Imperial
Mission
Rebellion
Ad blocker interference detected!
Wikia is a free-to-use site that makes money from advertising. We have a modified experience for viewers using ad blockers

Wikia is not accessible if you've made further modifications. Remove the custom ad blocker rule(s) and the page will load as expected.