Marksman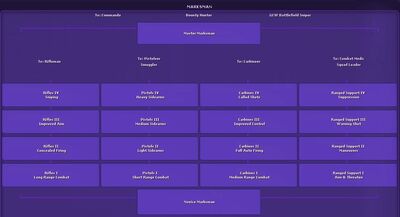 Nothing like a good blaster on your side, especially in such a war-torn galaxy.
Marksman Professions
Bounty Hunter
Carbineer
Commando
Pistoleer
Rifleman
Smuggler
Squad Leader
Skill Points
This profession requires 77 skill points to master.
Base Skills
Ranged Weapons
The first three branches in Marksman teach players how to use rifles, pistols, and carbines, respectively. Each branch contains the specials to increase combat effectivess. While CDEF weapons are basically the same, pistols generally are fast with low damage at close range, rifles are slower with high damage at long range, and carbines are in between.
Ranged Weapon Support Abilities
Marksmen also learn combat support abilities that can be useful in combat. These include posture changing attacks and valuable defense mods. The Ranged Support branch is required for almost every elite ranged profession.
Skill Mods
Carbine Accuracy
Carbine Defense
Carbine Speed
General Ranged Accuracy
General Ranged Speed
Melee Defense
Pistol Accuracy
Pistol Defense
Pistol Speed
Ranged Defense
Rifle Accuracy
Rifle Defense
Rifle Speed